Annette Marx | ART OR RAT | The Watcher out of Time

ENDLICH! NEUER TERMIN! 
am 06.06. 2021 um 19.30 Uhr im Blauen Hirsch, Saarbrücken St. Arnual

Annette Marx – Oliver Kleinbauer – Christian von Aster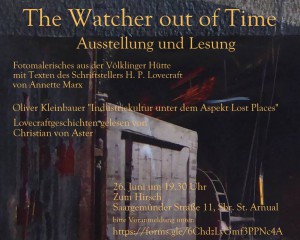 KOMMT KOMMT KOMMT …. ich freu mich auf euch …. es wird sehr gut!
Anmeldung zur Vernissage  https://forms.gle/9bpbs7dkmgXNjT337